Categories
Statistics
Number of ads: 600
Registered users: 165


Partners
Show all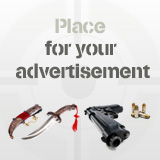 Equipment & accessories
(46 ads)
Ad title
Price
Date added
Locality

Genuine issue and used in Iraq and Afghanistan SDS WARRIOR combat helmet complete...
155 £
10.08.2012
13:31
Wales

military items wanted ww 2 and older. swords/daggers/armour/deactivated arms/ any...
To be agreed
10.08.2012
13:13
East of England

Ross of London WW1 Binoculars with Case Stero Prism binocular power 6 Serial No...
40 £
10.08.2012
12:51
Wales

Military night vision T3C-4 hand held Scope. The unit is in excellent condition. ...
150 £
10.08.2012
12:32
West Midlands

body armor kevler last used in libya by u.n forces these are over £4500 new comes...
100 £
10.08.2012
11:54
East of England

new with box
500 £
10.08.2012
02:54
Wales